"Can't you see that it's just raining...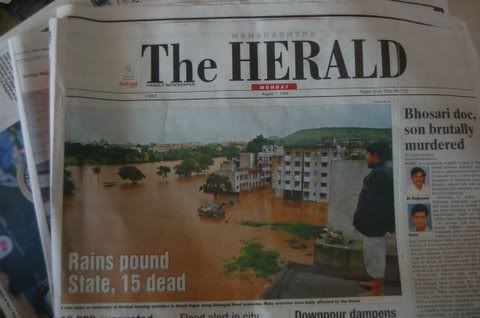 ...ain't no need to go outside." Ah Jack Johnson, one of my new loves in life...what a perfect song to describe monsoon season in India. Why on earth would anyone want to even think about setting foot outside when the ground is more water than land, and trash and who knows what else is floating in the nasty brown rivers that were once roads? But that's the hard thing about life here--for most people, going outside isn't even an option. Truth be told, sometimes it seems like more people live outside than in, and of those that do have homes, few have the luxury of hiding away in their flats on rainy days.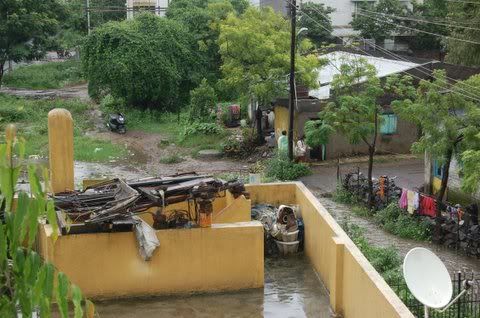 You would think that after growing up in south Louisiana, rain wouldn't bother me that much, but there's just something about the wetness/nastiness of monsoon season that makes me want to hide in my room. Even so much that I would have prefered to do my monthly financial report today over going outside (and that's saying a lot!). Fortunately, we had plans to meet up with some friends this evening, so we ventured out into the madness.
It turned out to be a pretty fun evening. It's actually been a really fun week, with our 2 new roommates from Delhi, Preeti and Sophy. They are fabulous girls, and we've had a good time getting to know each other since they moved in last Tuesday. And a few adventures as well--like tonight, when the brakes on the rickshaw went out and we had to get out and walk the rest of the way home. The distance wasn't too far, but the road was more water than, well, road, which made me quite thankful for the Crocs my sister sent me for my birthday.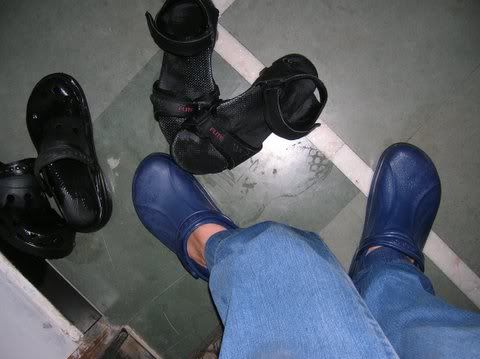 We eventually made it home and ran straight for the showers to wash our feet, then proceeded to the living room for dinner, laughing, funny videos and music, and speed Scrabble.
I've been reading other friends' blogs lately and I'm impressed at how thoughtful/thought-provoking their posts are. I think I've just viewed blogging as a way to tell people about stuff that won't fit in my newsletter, post pictures, and so on, but I like the idea of getting a little deeper. Maybe that will be my focus for year two.
And that's a whole other topic altogether...year two. 2. Too. It just doesn't seem possible, and yet this Saturday will mark the 2nd time I've spent August 12th in India. Today is day 361. More on this later...
One final note...I don't know if anyone reads my roommate Alisha's blog, but you should, cause it's fun and she's fun and funny. And there's a fabulous post about a little incident that occurred a few days ago that I think you'll get a kick out of. I'll just leave you with her address (http://www.xanga.com/roaming_sojourner) and this picture: